Data
We publish our data with an open licence to help others discover and share the history and stories of Toowong Cemetery.
Our Data
Friends of Toowong Cemetery have published data, including:
Other Data
Where practical, we link to authoritative data sources, rather than duplicate data. We encourage other data owners to publish their data as easily accessible open data. Other data we would like to reuse includes:
Brisbane City Council data
Graves and Human Remains - who is buried in which grave and associated dates
Cemetery Location data:

Cemetery boundary is available as open data
Portion and Section boundaries
Cemetery Road casements - centrelines are available as open data
Toowong Cemetery Pedestrian Entrance off Mt Coot‑tha Road.
Toowong Cemetery Main, Richer Street, and Frederick Street gates
Surrounding Road casements - including roads running off the surrounding road to aid orientation
Cemetery Building outlines - Amenities, Workshop, Office, Museum and Shelter Sheds
Waterways - Langsville Creek and Flood risk are available as open data
Governor Blackall and the Soldiers Memorial monument outlines
Contour lines - are available as open data.
Data Formats
Our data is published as Comma Separated Value (.csv) data files.
We plan to experiment publishing our data as Linked Data to enable semantic queries and visualisations. We are considering using the following specifications:
Data Visualisation
Static Visualisations we are considering include:
A Mobility map to provide accessibility information to cemetery visitors
Grave locations and images
Timelines for an individual, family, or group of related people
Dynamic visualisations we are considering include:
A biography explorer, traversing links from Person to Events, Organisations, and other People. This would traverse Linked Data stored using the Bio ontology.
A cemetery explorer, traversing links from Person to their Remains, Grave and Headstone. This would traverse Linked Data stored using the Graves ontology.
We are inspired by the works of others who share and create with open data, including:
Data Consumers
Our end goal for publishing and linking our data is to enable Friends of Toowong Cemetery and others to discover and share new stories and historical insights about Toowong Cemetery.
We encourage you to reuse our data but please follow the terms of the licence and provide attribution.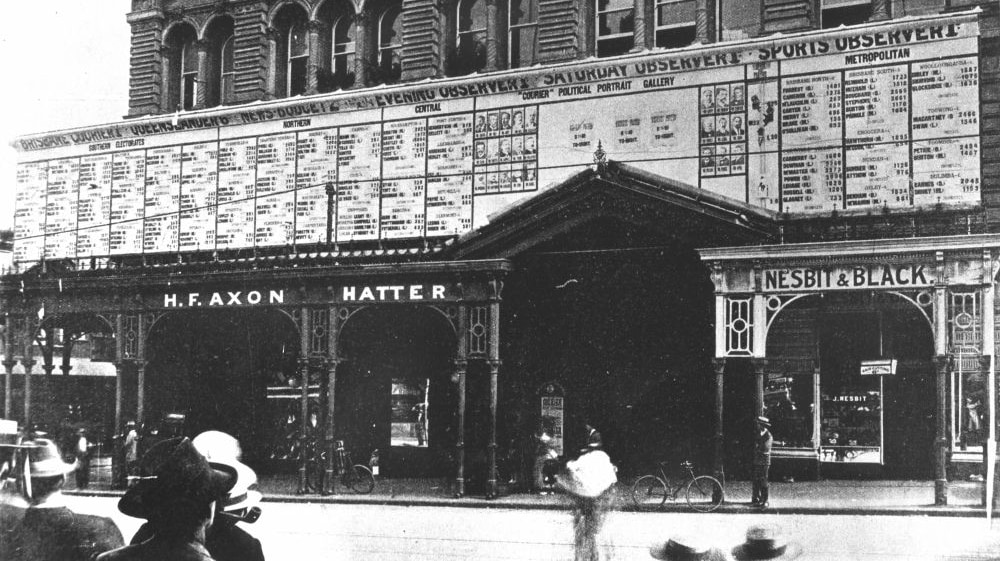 Posting of the election results on the outside of the Courier building, 1907 - State Library of Queensland. Cropped