Labor Luminaries
Stories recognising people involved in the Labor movement.
Use the Toowong Cemetery map to help you visit the graves in this story.
Emma Miller (13‑6‑5/6)
Miller was born Emma Holmes in Chesterfield, Derbyshire, in June 1839.
On 15 September 1857 at Chesterfield Register Office she married Jabez Mycroft Silcock, a bookkeeper with whom she had eloped. He died in 1870 leaving her with four small children to support.
Emma was a gentlemen's shirtmaker and she began to take in piecework, working twelve hours per day, six days per week.
Emma remarried on 30 August 1874 at Salford, Lancashire, William Calderwood, a stonemason. They arrived in Brisbane in March 1879. He died just over a year later. Widowed again, Emma was forced to make her living by needlework.
Emma was in the vanguard of the formation of women's unions, the women's suffrage movement, and the Labor Party.
She actively supported strikers during the 1880s, and worked to alleviate the plight of the unemployed.
Her third husband was Andrew Miller (d.1897), a widower whom she married at Brisbane Registry Office on 21 October 1886.
She campaigned tirelessly for freedom from conscription. Through these activities, she was known and admired throughout the country, and given the affectionate title 'Mother of the Australian Labor Party'.
On 'Black Friday' of the 1912 strike, Emma led a large contingent of women to Parliament House, braving the batons of foot and mounted police. She reputedly stuck a hatpin into the horse of Police Commissioner Cahill who was thrown and injured.
Emma died in 1917. On 22 October 1922 a publicly funded marble bust of her was unveiled in the Trades Hall.
Portrait of Mrs. Emma Miller - State Library of Queensland.
Marble Bust of Emma Miller held at Queensland Council of Unions by sculptor James Laurence Watts by Alphi123, used under CC BY-SA 4.0.
Thomas Glassey (11‑22‑1)
Glassey was born in 1844 at Market Hill, Co. Armagh, the son of weaver Willhelm Glassey and Sussannah. From the age of six, he worked as a linen mill weaver before moving to Scotland in 1852 to be a coal miner. Glassey was self‑educated at Sunday school. He married Margaret White in 1864 in Bedlington, Newcastle, England and had a son. He came to Queensland in 1884 after a career as a political agitator in England. Glassey was the MLA for Bundamba from 1888 ‑ 1893 before representing Burke 1894 ‑ 1896 and Bundaberg 1896 ‑ 1901. In 1892, Glassey was the chairman of the Queensland central executive of the Labor Party. After Federation, he switched to federal politics and was a senator from 1901 ‑ 1903. He died on 28 September 1936 in Brisbane.
Senator Thomas Glassey delivering a speech to the women electors of Queensland - State Library of Queensland.
Glassey family, ca. 1926 - State Library of Queensland.
William Henry Browne (11‑51‑3)
Browne was born 13 September 1846 in Pimlico, London. He was a Royal Navy seaman in 1857 before joining the merchant marines. Browne moved to New South Wales in 1866, where he worked as a goldminer. He was the president and secretary of the Amalgamated Miners Association of Croydon and chairman of the Croydon Hospital Committee. His political career started in 1893 as the MLA for Croydon, the seat he held until his death in 1904. Browne was leader of the Opposition and chairman of the Parliamentary Labor Party from 1900 to 1903 and then became Minister of Mines. Browne did not marry.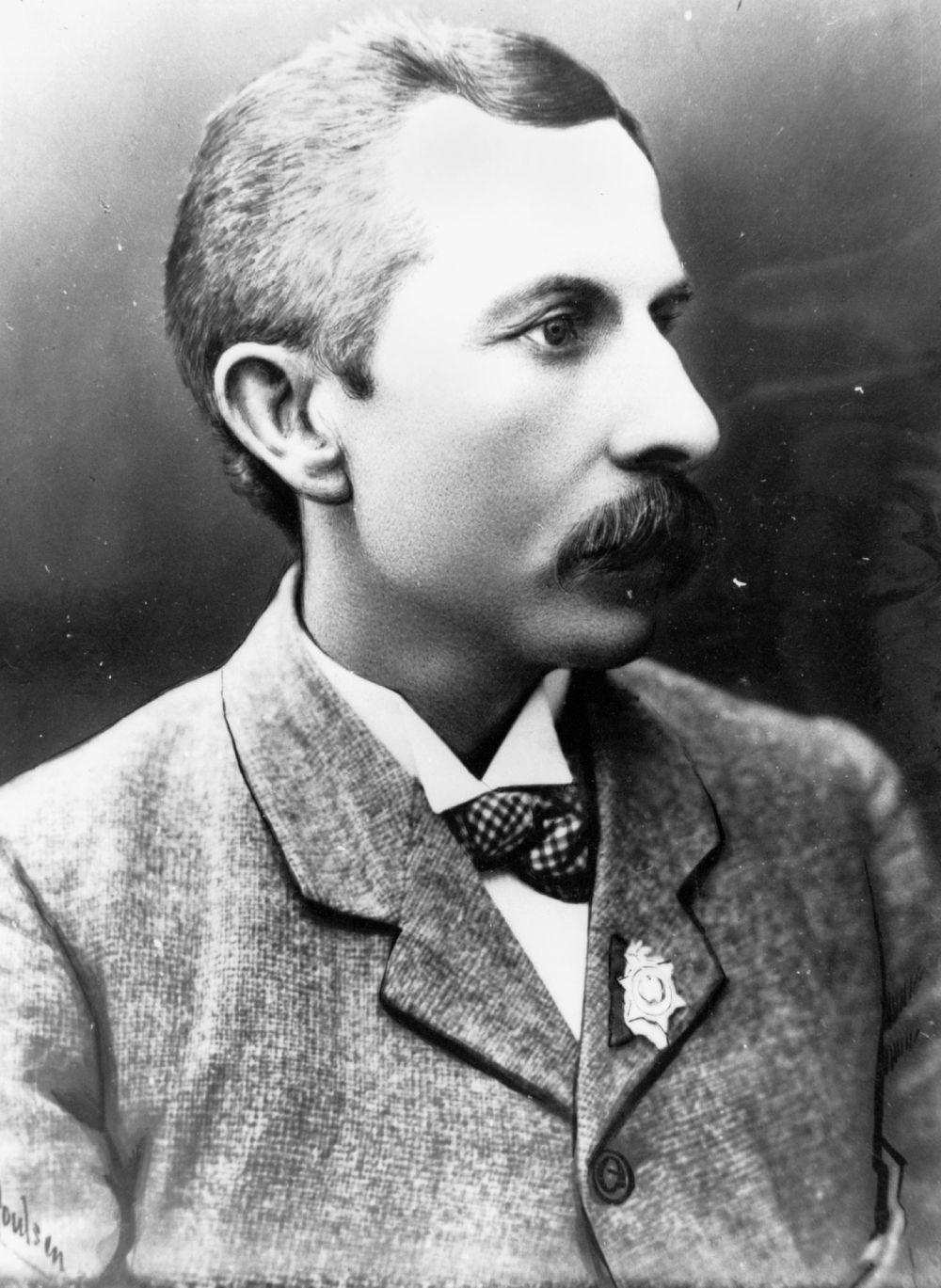 Honourable William Henry Browne - State Library of Queensland
John Gordon Smith (11‑53‑5/6)
Smith was born in 1863 in Aberdeenshire, Scotland, son William Smith and Christina Duncan. He married Annie Coles in Brisbane in 1884 and had a son and four daughters. In a varied career, he was a publican in Maryborough, and around 1900 operated a night coffee stall in Queen Street. Smith was known as the 'Democratic Pieman'. He was also a grand master of the Ancient Order of Foresters and President of the British Associated Friendly Society Dispensaries. Smith was a Member of the Legislative Council from 1920 until his death in Brisbane on the 19 June 1921.
Anderson Dawson (11‑56‑1)
Dawson was born on 16 July 1863 in Rockhampton, the son of miner, Anderson Dawson and Jean Smith. He was a miner by profession. He married Caroline Quin in 1887 and together they had two sons and two daughters. Dawson was president of the Miners' Union and a provincial councillor for the Australian Labor Federation. He entered parliament as MLA for Charters Towers in May 1883 and held the seat until September 1901 when he was elected a senator, serving until 1906. Dawson lead the world's first Labor Government when he was Premier and Chief Secretary for Queensland from 1 - 7 December 1899. He died in Brisbane on 20 Jul 1910.
Honourable Anderson (Andrew) Dawson 1899 - State Library of Queensland
After the swearing in of the Dawson ministry of the Labor Party Brisbane, Queensland - State Library of Queensland
David Bowman (11‑76‑12/13)
Bowman was born on the 4 August 1860 in Bendigo, Victoria, son of miner, Archibald Bowman and Isabella. He arrived in Queensland in 1887 and established his own bootmaking business in New Farm. He married in 1885, Elizabeth Jane Smith, who bore him two sons and two daughters. He entered politics and held various seats in the Queensland Legislative Assembly from 1899 until his death on the 25 February 1916 at Brisbane. Bowman was an organiser for the Australian Workers Union and leader of the Queensland Labor Party from 1907 to 1912.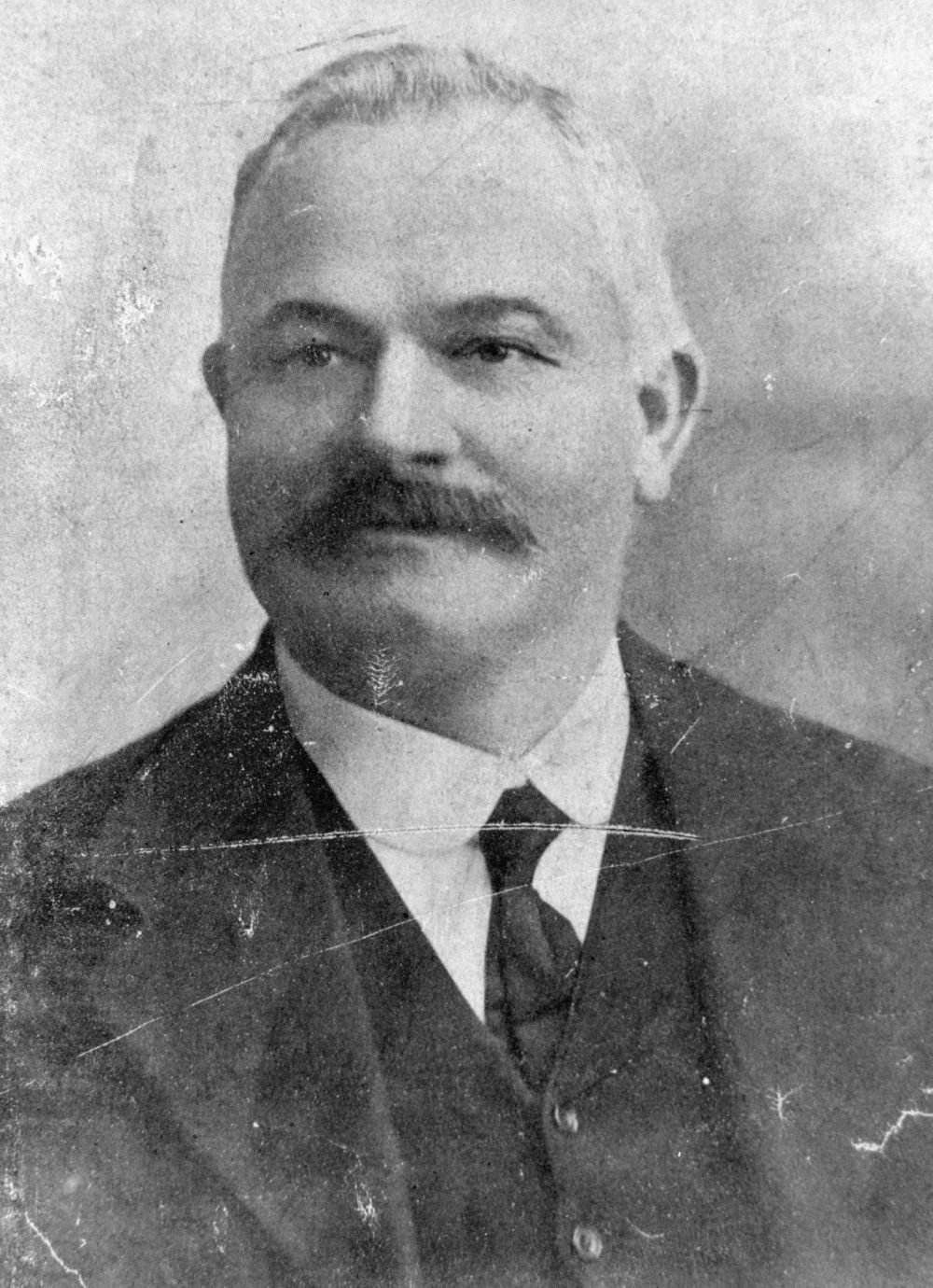 David Bowman - State Library of Queensland
William Forgan Smith (8‑25‑20/21)
Smith was born in April 1887 in Invergowrie, Scotland, son of George, a landscape gardener and Mary Forgan. He married Euphemia Wilson in 1913 in Mackay and had two sons. In a varied career, he was a housepainter in Mackay, had business interests and was chairman of the Central Sugar Cane Prices Board. Smith was a member of the Trades and Labor Council, Australian Workers' Union and on the Central Executive of the Australian Labour Council. Smith was the long‑serving MLA for Mackay from 1915 to 1942, serving as Premier for 10 years from 1932. He received and Honorary LL.D from the University of Queensland. He died in Sydney on Sugar Board business on 25 September 1953.
Construction of the Forgan Smith Building, University of Queensland , St Lucia, Brisbane, Queensland, 1940 - State Library of Queensland
William Forgan Smith ca. 1935 - State Library of Queensland
William Neal Gillies (18‑106‑20)
Gillies was born 28 October 1868 on the Hunter River, New South Wales, the son of farmer, Dugald Gillies and Ann. He was a sugar grower on the Tweed Heads and president of the NSW Sugar Growers Defence League. Gillies married Margaret Smith in 1900 and had a son and a daughter. He entered politics in 1912 as the MLA for Eacham, a seat he held until 1925 when he briefly switched to Federal politics, holding the seat of Herbert. Gillies was Premier, Chief Secretary and Treasurer from February to October 1925. He died at Toowong on 9 February 1928.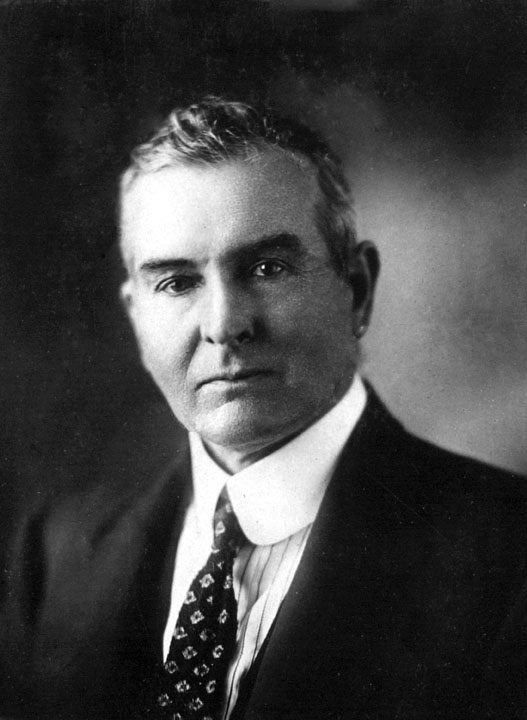 William Gillies, 1920 - Queensland State Archives
Edward Michael Hanlon (7A‑38‑19/21)
Hanlon was born on 1 October 1887 in Brisbane, son of Michael and Mary Ann Byrne. He was educated Petrie Terrace State School and the Brisbane Technical College before joining the Queensland Railways in 1908. After 1912, he became a grocer and was active in the Shop Assistants' Union. Hanlon served in the 9th Battalion Australian Imperial Force from 1915 to 1919. Hanlon married Elizabeth Carver in 1922. He fathered a son and three daughters. He was an MLA for Ithaca from May 1926 until his death on 15 January 1952. Hanlon was Minister for Health from 1935 to 1944 and Premier and Chief Secretary from 1946 to 1952. His statue overlooks the old Royal Women's Hospital and the multi-level Ned Hanlon Building.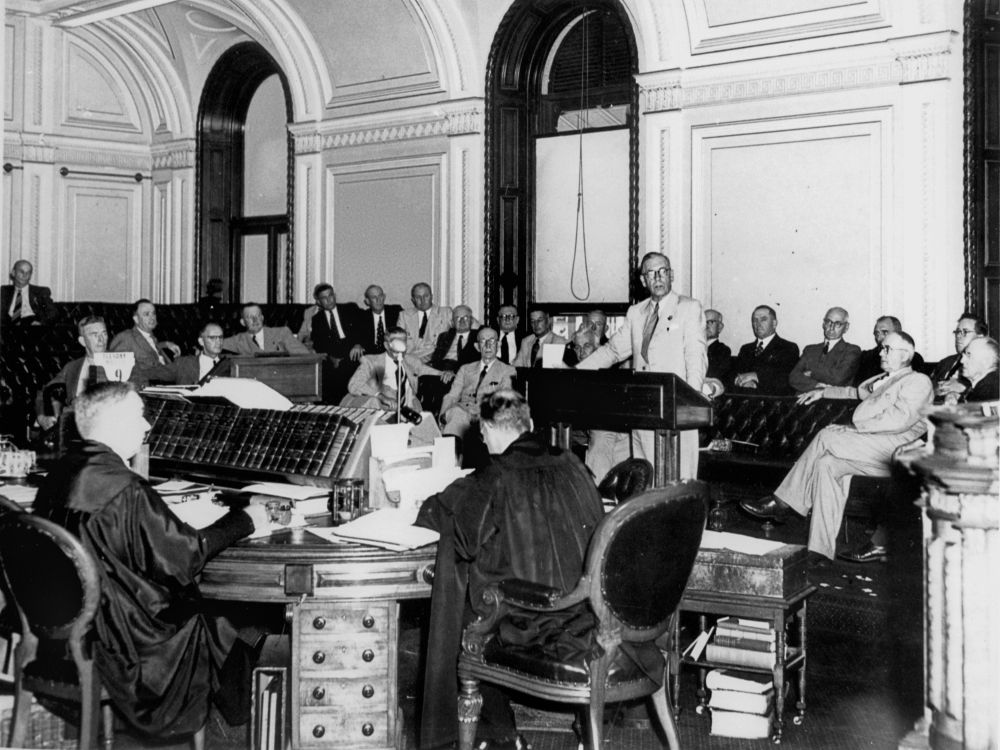 Edward Michael Hanlon, premier of Queensland, addressing the Legislative Assembly on the occasion of the Industrial Law Amendment Bill, 1948 - State Library of Queensland
John 'Plumper' Hoolan (7A‑34‑2)
Hoolan was born in 1842 in Tipperary, son of James Hoolan and Margaret Kennedy. He married Ellen Lawler in 1871 in King's County, Ireland and had two sons and two daughters. In a varied career, he was a carpenter in Bathurst, a miner in Charters Towers, a newspaper proprietor in Georgetown and leased a farm in North Queensland in 1896. Hoolan was the MLA for Burke from 1890 to 1894 and again from 1896 to 1899. He died in the Diamantina region on the 15 June 1911.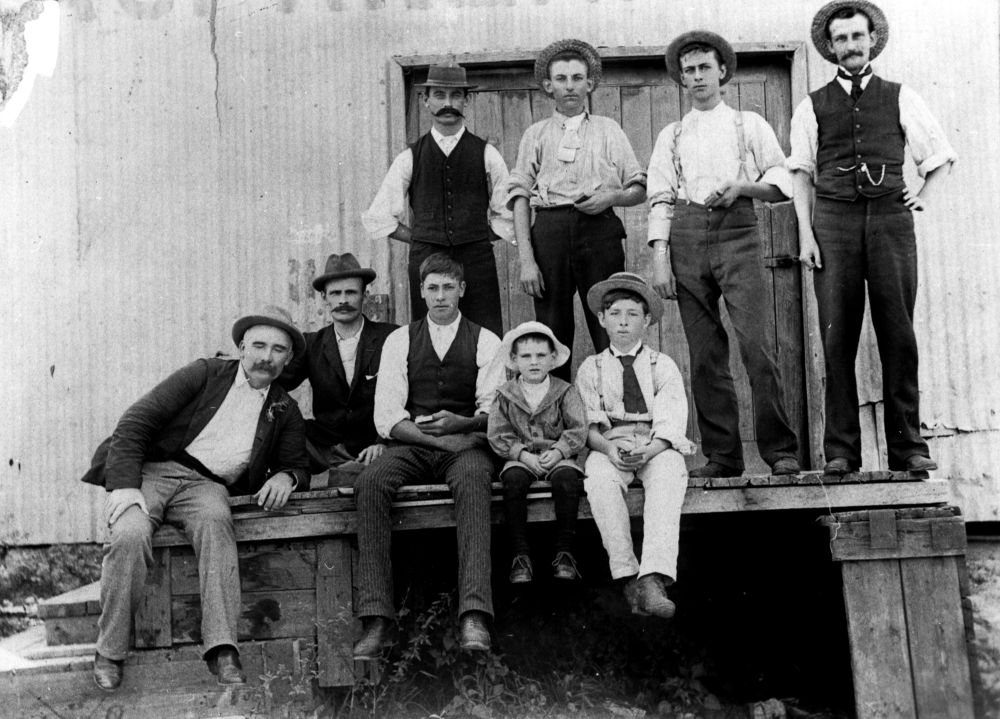 John 'Plumper' Hoolan, ca. 1902 - State Library of Queensland
Albert Edward Victor Whitford (15‑6‑40)
Whitford was born in 1877 in Woolwich, England, son of Charles Whitford and Dora Kelly. He married Ethel Scott in Sydney and had two sons and two daughters. Arriving in Queensland in 1910, he worked as a tailor in Childers. Whitford was the MLA for Burrum from March 1918 to October 1920. He was murdered in Albert Square on 29 January 1924 by returned serviceman, James William Laydon.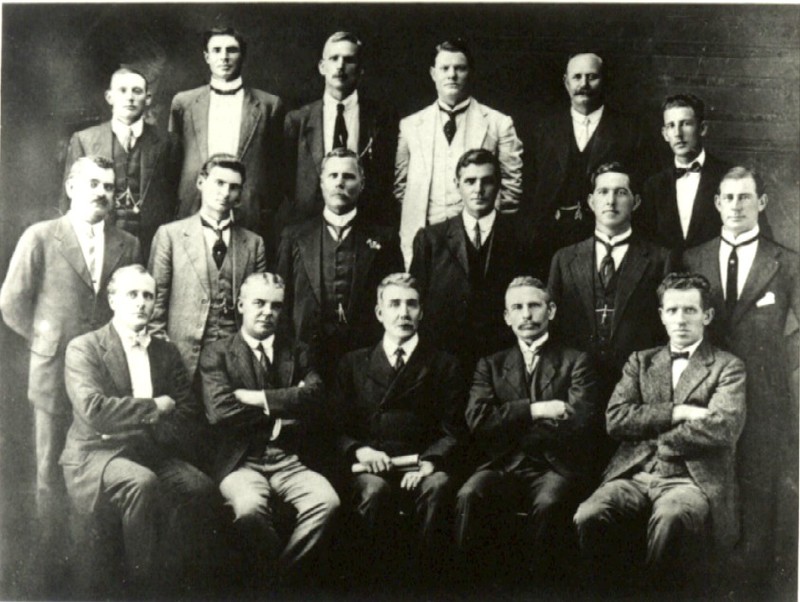 Delegates to the Queensland Police Union third annual conference. Whitford is in the front row, second on the left. - Queensland Police Museum. CC BY-SA 4.0
Further Reading
Waterson, D. B. Biographical Register of the Queensland Parliament, Australian National University Press, 1972
Acknowledgements
Research on Albert Whitford provided by Shelley Steel
Compiled by Dr. Hilda Maclean