Prospectors
Stories about Prospectors remembered in Toowong Cemetery
Use the Toowong Cemetery map to help you visit the graves in this story.
William Francis Faine (13‑12‑1)
Guernsey born William Francis Faine was a son of George Faine and Elizabeth (née Cripps). At 16 years of age, William arrived in Melbourne and headed to the Ballarat and Bendigo goldfields.
In 1862 he came to Queensland to take up Gleneva Station near Nebo. William was one of the first on the Palmer River Goldfields. He also prospected at the Gilbert River, Gympie and Clermont.
Annie Mabel Gordon married William on 19 March 1874 in Gympie. Of their ten children four died in infancy. William served as a Customs Officer for 15 years to 1894. William died of an aneurism at his residence St George, Kangaroo Point on 28 August 1899.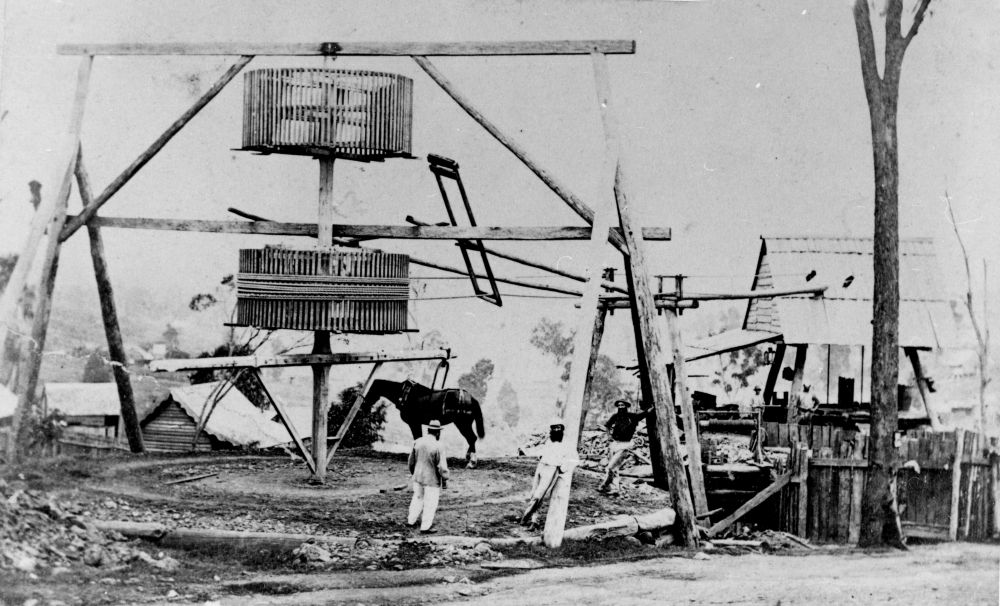 Horsedrawn whim at a goldfield in Gympie, 1870-1880 - State Library of Queensland
William James Muldoon (2‑26‑25)
William James Muldoon, a native of Scotland, was a son of James Muldoon and Mary Louisa (née Noon). William lived a solitary life in a hut on Camp Mountain prospecting for gold on the Samford Ranges. William was a well-known Samford identity coming to the village for purchases and to draw his pension. William died of natural causes at his residence on 23 September 1924 aged 73 years.
Sidney Spencer Broomfield (18‑20‑11)
Born in Hampshire, England in 1847, Sidney headed to east Africa in 1868 aged 21 years. Sidney wrote "Kachalola or The Mighty Hunter" from his diaries covering 1868 to 1876. It contains adventures from east Africa 1868-69 and 1872-74, south Asia and the Dutch East Indies 1874-75 and New Guinea 1875-76. The book was released in 1931 when he was 84 years of age.
In February 1931 Sidney set off from Rushworth, Victoria, travelling for two years and seven months before reaching Darwin. Returning south, Sidney was taken to Brisbane's General Hospital suffering double pneumonia. Sidney succumbed two days later on the 24 October 1933 aged 86 years.
Frederick Achilles (18‑62‑1)
Frederick Ernest Achilles was a son of Frederick August Achilles and Annie (née Schutter). Fred was employed with Otto Nagel by the Maryborough Prospecting Company to thoroughly search the Burnett district for minerals.
Mary Jane Holmes married Fred in Queensland on 6 March 1888. On 13 June 1900, recently resettled from Bathurst, Fred died of phosphorous poisoning in his residence on Hyde Terrace, South Brisbane.
Thomas James Mattingley (18‑173‑45)
Thomas James Mattingley was a son of Thomas James Mattingley and Ruth (née Dale). Alice Bertha Waters married Thomas in Queensland in 1901. A Brookfield resident, Thomas prospected in the area and discovered an auriferous reef, starting the Eclipse and Surprise Mines. After 20 years prospecting experience in Queensland, Thomas died in a private hospital on Thursday 22 May 1924, aged 50 years, leaving a widow and family of two.
John Wilson Weir (8‑34‑30)
Born in Glasgow, Scotland, John Wilson Weir was a son of John Weir and Jane (née Kerr). The family immigrated to Townsville, arriving on 19 July 1882. In Townsville in March 1917, John enlisted in the 15 Australian Imperial Force. Driver Weir was discharged in June 1918 as overage. Frances Georgina Bain (née Backwell) married John in Queensland in October 1918. Frances died in 1927. John was residing in Beatty Road, Salisbury when he died on 16 December 1947 aged 77 years.
John Edward Maidens (18‑79‑13)
John Edward Maidens was born in NSW on 3 February 1874 to Elijah Maidens and Sophia (née Medhurst). As a young man Jack was one of three who discovered the Kanowna Goldfield, Western Australia, in 1893. In 1898 Mabel Mary Lipton married John in St Paul's Cathedral, Melbourne.
Around 1910 they moved to Roma, where John became licensee of the Royal Hotel and served a term on the Roma Town Council. The Royal Hotel burnt down on Monday 10 May 1915 while Jack and Mabel were out of town. They moved to Brisbane before settling in Toowoomba in early 1916. Jack helped form Rockhampton's Jardine Racing Club in late 1918 and Toowoomba's Carrington Racing Club in 1919.
Jack died at his residence in Temple Street, Coorparoo on Sunday 7 December 1924 aged 50 years 10 months. Mabel and their adult daughter survived John.
William Henley Rawlings (11‑51‑1)
William Henry Rawlings was born in Bristol, England on 28 February 1848 to William Rawlings and Margaret Eliza (née Edwards). Billy headed to sea, earning a master mariner's certificate before immigrating to Sydney in 1869. Billy's seafaring then turned to New Zealand's west coast until 1874 when he went mining in Parkes and Urana, New South Wales.
In 1883 Billy headed to the north Queensland gold rush in the Hodgkinson then Herberton regions. Billy represented Woothakata in the Queensland Parliament from May 1893 until April 1896. Billy spent less than one month in the Legislative Council before he died on Sunday 5 August 1906 at the Alexandra Private Hospital.
William Henry Browne (11‑51‑3)
William was born on 13 September 1846 in Pimlico, London to William Henry Browne and Eliza (née Barton). William was a Royal Navy seaman in 1857 before joining the merchant marines. William moved to Araluen, New South Wales in 1866, where he worked as a gold miner.
He was the president and secretary Amalgamated Miners Association of Croydon and chairman of the Croydon Hospital Committee. His political career started in 1893 as the MLA for Croydon, the seat he held until his death on 12 April 1904. William was the leader of the Opposition and chairman of the Parliamentary Labor Party from 1900 to 1903 and then became Minister for Mines. William did not marry.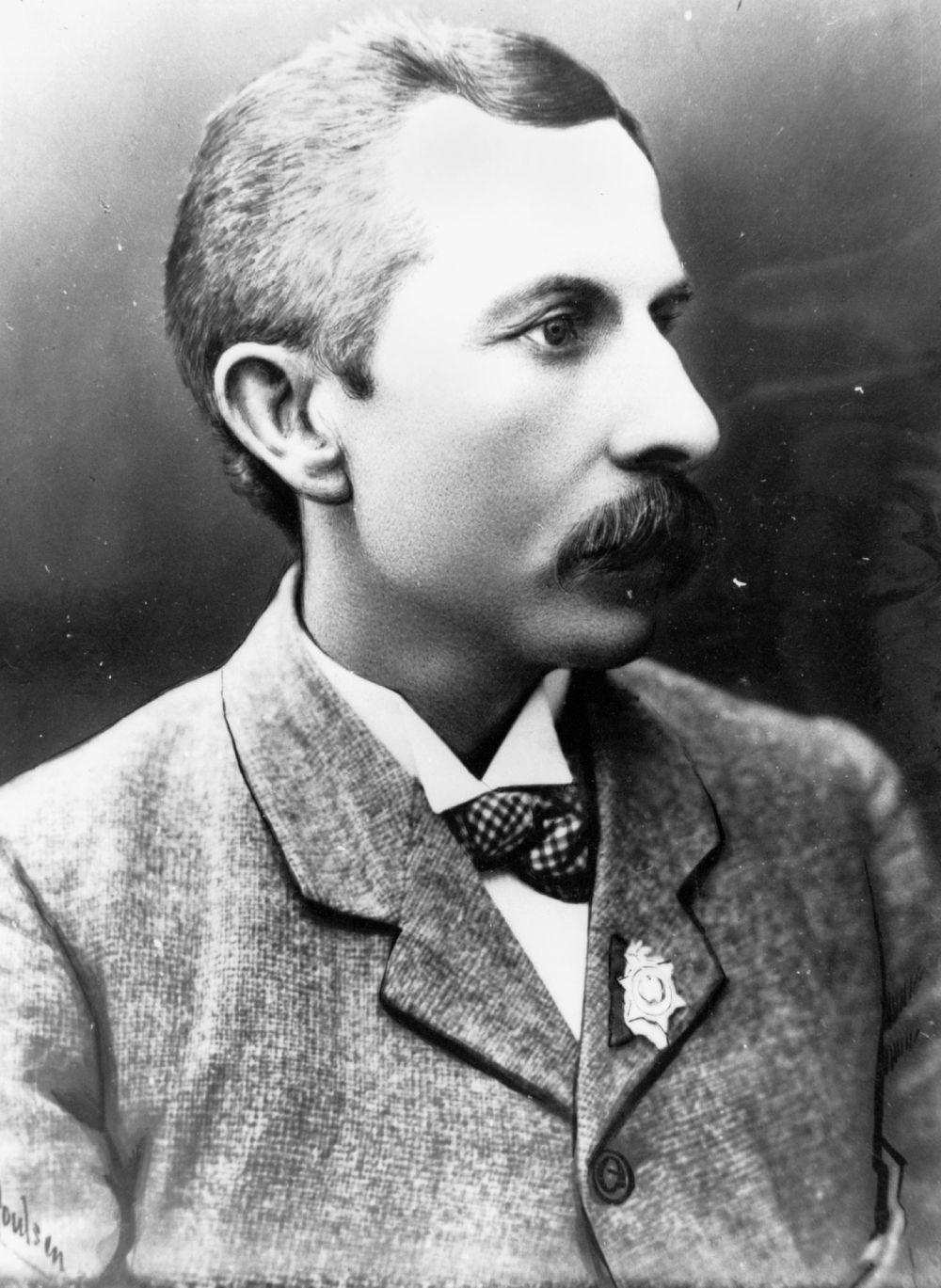 Honourable William Henry Browne - State Library of Queensland
Hugh Mosman (13‑88‑3)
Hugh Mosman was born on 11 February 1843 to Archibald Mosman and Harriet (née Farquharson). Hugh headed to Queensland in 1860, attracted by the pastoral boom. Hugh turned to prospecting in the Ravenswood area when the economy declined. Hugh's Aboriginal servant, young Jupiter Mosman, is credited with the gold discovery at the place Hugh subsequently named Charters Towers.
Hugh was a member of Queensland's Legislative Council from 27 June 1891 until his resignation on 17 January 1905. Hugh, a brother-in-law to Sir Thomas Mcllwraith and Sir Arthur Palmer, died at his residence Eastern Gray, Toowong on 15 November 1909.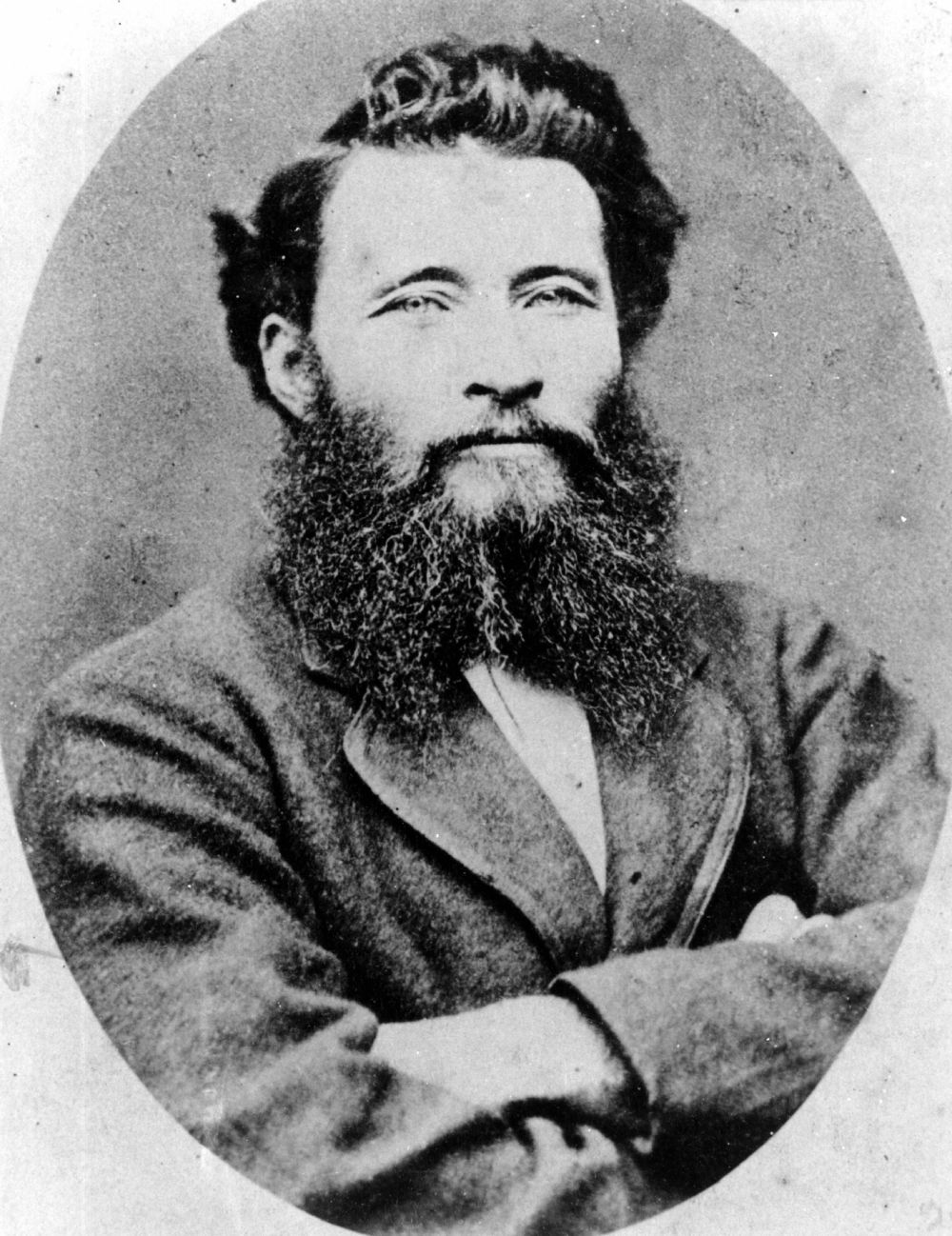 Hugh Mosman - State Library of Queensland
William Chalmers Brown (9‑31‑7)
William was born in Croydon, England 1841 to Alexander Brown and Margaret (née Chalmers). In 1879 William arrived in Normanton aboard the ketch Dawn. In 1882 William ran the pastoral station Croydon with his brother, Alexander. In 1885 William officially notified authorities of gold and a rush commenced.
Mary Elizabeth O'Grady married William in 1885. Mary died in March 1900 shortly after the birth of their sixth child. A throat affliction brought William to Brisbane, where he died in the Brisbane General Hospital on 15 April 1909 aged 66 years.
Sources