Emma Miller
26 June 1839 — 22 January 1917
Emma Miller (13‑6‑5/6)
Miller was born Emma Holmes in Chesterfield, Derbyshire, in June 1839.
On 15 September 1857 at Chesterfield Register Office she married Jabez Mycroft Silcock, a bookkeeper with whom she had eloped. He died in 1870 leaving her with four small children to support.
Emma was a gentlemen's shirtmaker and she began to take in piecework, working twelve hours per day, six days per week.
Emma remarried on 30 August 1874 at Salford, Lancashire, William Calderwood, a stonemason. They arrived in Brisbane in March 1879. He died just over a year later. Widowed again, Emma was forced to make her living by needlework.
Emma was in the vanguard of the formation of women's unions, the women's suffrage movement, and the Labor Party.
She actively supported strikers during the 1880s, and worked to alleviate the plight of the unemployed.
Her third husband was Andrew Miller (d.1897), a widower whom she married at Brisbane Registry Office on 21 October 1886.
She campaigned tirelessly for freedom from conscription. Through these activities, she was known and admired throughout the country, and given the affectionate title 'Mother of the Australian Labor Party'.
On 'Black Friday' of the 1912 strike, Emma led a large contingent of women to Parliament House, braving the batons of foot and mounted police. She reputedly stuck a hatpin into the horse of Police Commissioner Cahill who was thrown and injured.
Emma died in 1917. On 22 October 1922 a publicly funded marble bust of her was unveiled in the Trades Hall.
Portrait of Mrs. Emma Miller - State Library of Queensland.
Marble Bust of Emma Miller held at Queensland Council of Unions by sculptor James Laurence Watts by Alphi123, used under CC BY-SA 4.0.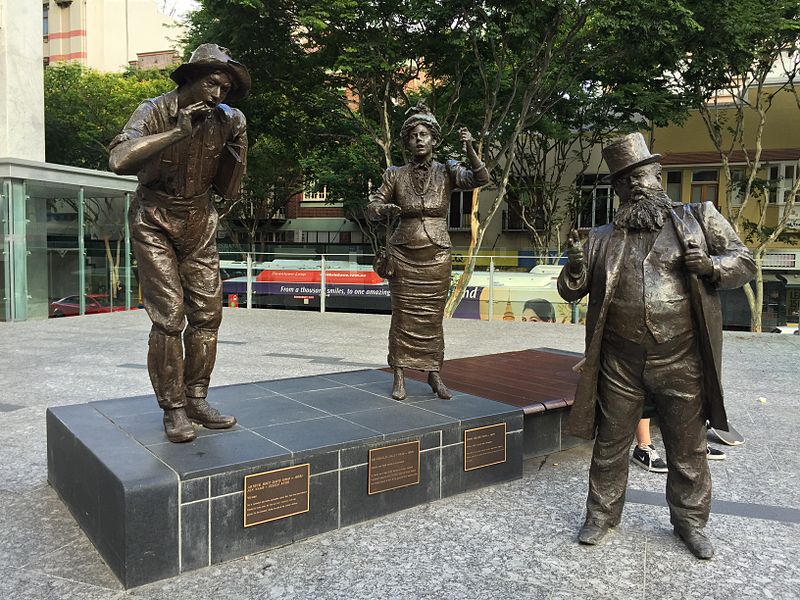 Arthur Hoey Davis - Steele Rudd, Charles Lilley and Emma Miller statues located in King George Square in Brisbane, Australia. Artist: Artbusters Materials: Bronze Installation date: 1993 by Kgbo, used under CC BY-SA 4.0.
Black Friday: When Brisbane Police Beat and Suppressed Demonstrators - Queensland State Archives
Headstone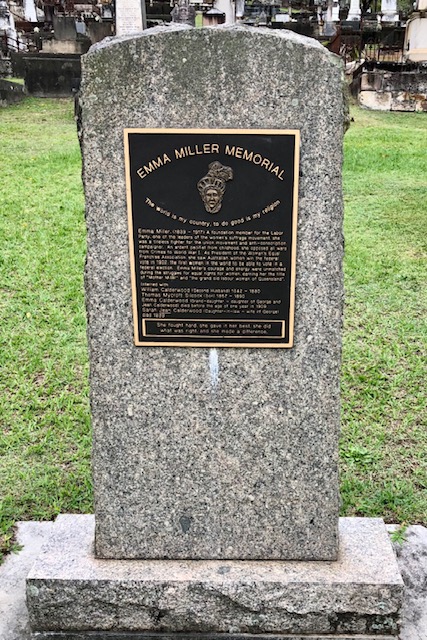 Emma Miller's headstone
Inscription
Emma Miller Memorial
Emma Miller, (1839 - 1917) A foundation member for the Labor
Party, one of the leaders of the women's sufferage movement, she
was a tireless fighter for the union movement and anti-conscription
campaigner. An ardent pacifist from childhood, she opposed all wars
from Crimea to World War I. As President of the Women's Equal
Franchise Association, she saw Australian women win the federal
vote in 1902, the first women in the world to be able to vote in a
federal election. Emma Miller's courage and energy were unmatched
during the struggles for equal rights for women, earning her the title
of "Mother Miller" and "the grand old labour woman of Queensland".

Interred with:
William Calderwood (Second Husband) 1842 - 1880
Thomas Mycroft Silcock (Son) 1857 - 1890
Emma Calderwood (Grand-daughter - daughter of George and Jean Calderwood) died before the age of one year in 1909
Sarah Jean Calderwood (Daughter-in-law - wife of George) died 1939

She fought hard, she gave it her best, she did
what was right, and she made a difference.