Lilian Violet Cooper
11 August 1861 — 18 August 1947
Dr Lilian Cooper (8‑69‑13/14)
Lilian Violet Cooper was born on 11 August 1861 at Chatham, Kent, England. Her father, Henry was a captain in the Royal Marines who was married to Elizabeth. Lilian knew when she was young she wanted to be a doctor and began dedicating herself to medicine, entering the London School of Medicine for Women in 1886. After passing examinations at the Royal College of Physicians, Edinburgh, the Royal College of Surgeons, Edinburgh, and the Faculty of Physicians and Surgeons, Glasgow, she received a licence to practice in 1890.
Upon moving to Brisbane in May 1891, Cooper became the first female doctor registered in Queensland. She joined the Medical Society of Queensland in 1893 after two years of boycotting by her male counterparts for daring to leave a practice conducted by an alcoholic doctor. Later she became an Honorary in the Hospital for Sick Children and the Lady Lamington Hospital for Women. In 1905 she became associated with the Mater Hospital where she found her passion and so remained associated for the rest of her life.
During her life, Cooper always sought to further her knowledge, and during time spent in America, went on to earn a Doctorate of Medicine from the University of Durham. Joining the Scottish Women's Hospitals in 1915 she performed 12 months of military service spending time in Macedonia where she was awarded the Serbian Order of St Sava, 4th Class.
Returning to Brisbane after the war she bought a house called Old St Mary's in Main Street, Kangaroo Point in 1926. Clearly skilled with her hands as a surgeon, Lilian was also known for conducting most of her own house and early motor vehicle repairs and maintenance. In this home she settled into in semi‑retirement, becoming a foundation fellow of the Royal Australasian College of Surgeons in 1928 before finally retiring in 1941.
Lilian died in her home on 18 August 1947. While she never married, her constant companion and friend, who first travelled with her from England, Miss Josephine Bedford ensured the home site was used for the development of the Mount Olivet Hospital of the Sisters of Charity. Part of this hospital has since been named the Lilian Cooper Nursing Home. Interestingly, a visit to St Mary's Church of England in Kangaroo Point will provide visitors with images of memorial windows and an altar at the front which displays embroidery of Dr Cooper's medal of St Sava.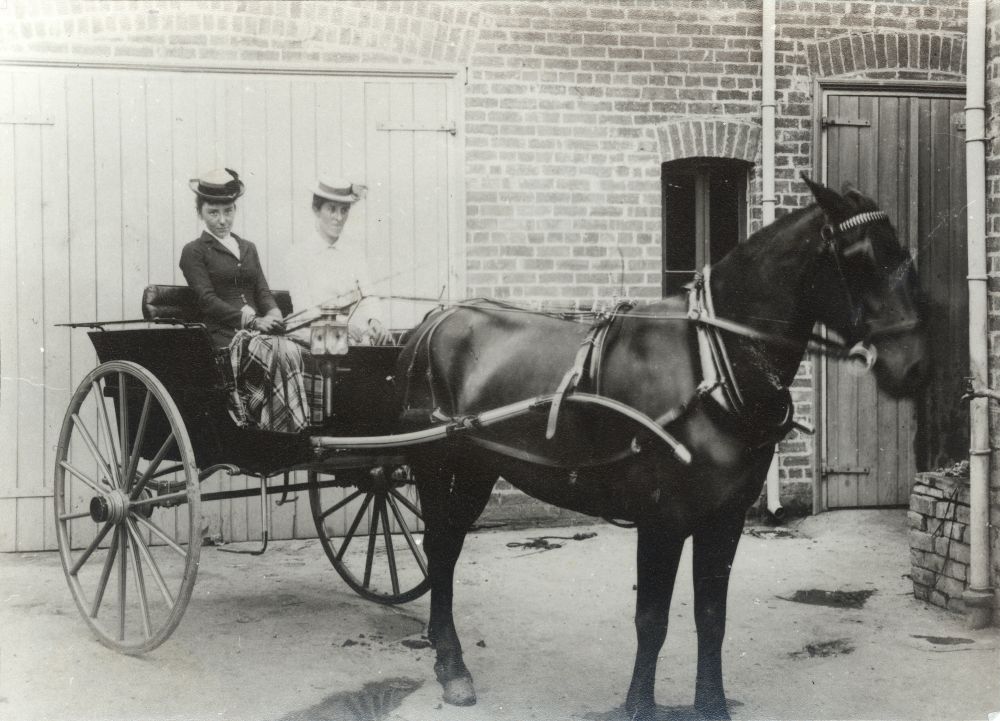 Two friends seated in a horsedrawn buggy, Brisbane, ca. 1900. Miss Josephine Bedford (left) and Dr. Lilian Cooper, the first registered female doctor in Queensland. Dr Cooper made house calls in a horse and sulky by day and a bicycle by night. Her surgery was in George Street, Brisbane. - State Library of Queensland
Headstone
Learn more